routes on the South Coast Cagliari
South Coast Cagliari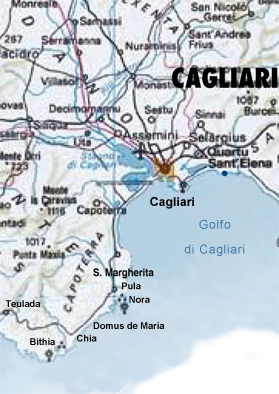 To the south west of Santa Margherita di Pula, abandoning the state Sulcitana, take the overview of the South Coast, which visit enchanting coastal corners with beaches, rocks and Mediterranean vegetation.
Here the beauty of Sardinia seem to reach their maximum expression, as well as the case for the cultural aspects with important sites such as the Roman city of Nora, with its ruins which are the background of a clear sea.

Along the South Coast are the most important centers of tourism Cagliari, from Pula to Domus de Maria with the beautiful beach of Chia and its tower, and just beyond the ancient Bithia on its way to Teulada, for a stretch coastal of inimitable charm.
The road ends in Portu Tramatzu match, where there is the eponymous camping and a small marina from which stationed boats for the visit by sea of this small corner of paradise.